Featured in a music blog!
I had the best Monday morning surprise! I woke up to the nicest article about my song 11 Years. The writer Toni Styles, also seems to really "get" that I like my music to have an upbeat, positive message. That makes me so happy! Read the article 
HERE
. Some of the highlights for me are "Hannah's music comes with a kick. It's the sound you want to hear streaming from your radio, while stuck in traffic on your way to a destination you'd rather not be going. Her songs will give you that extra push." and "In closing, Hannah Williams who has been involved in the music industry for two decades, has sufficient talent to be the next you name it; from a list of impressive female Country, Blues, Pop artists. Albeit, Hannah Williams is really one of a kind.  Yes – Hannah is Hannah. Which is pretty awesome!" 
The whole article is really pretty fabulous! : )
---
Shows!
I have had one show back since giving birth 11 months ago today! I have a bunch more coming up. It feels soooooo good to be getting out and playing music again. I am definitely a better mom when I stay true to who I am as a creative person!

Two more shows coming up at Twisted X Brewery in Dripping Springs. One THIS SUNDAY from 2-4, then next is 4/20. It's a great family friendly place with picnic tables and Mexican blankets, super cozy. I'll be doing a song swap with my good friend and fellow music Mama, Meagan Tubb. 

We are also playing a benefit for cancer together April 6th along with Lisa Marshall Band and Tanya Winch. It's called Dripping Divas - A Relay For Life Concert. 

Click Here for details on all upcoming shows.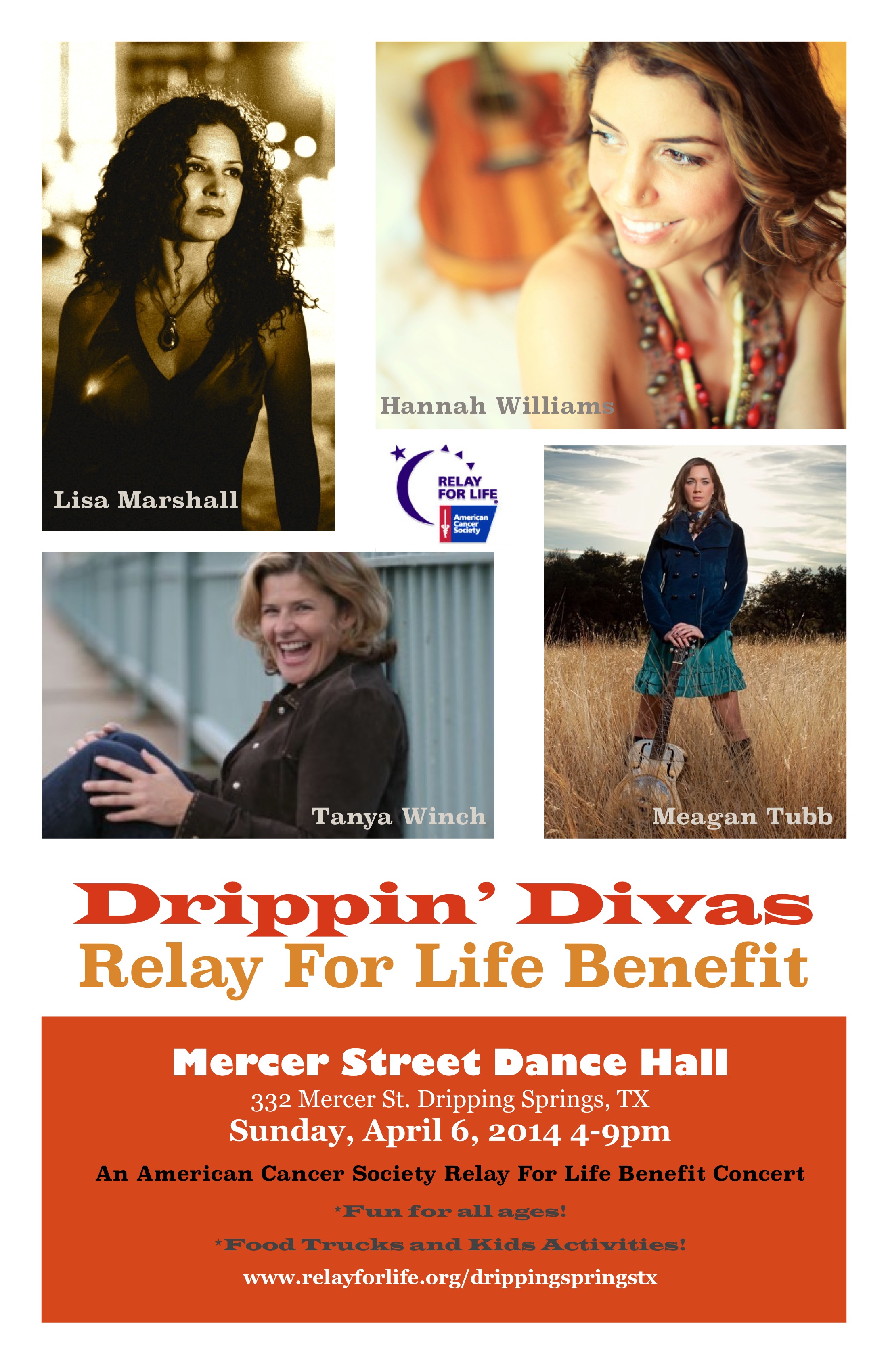 ---
Sharing the love with kiddos
I was so honored to be invited to share the joys of being a yoga teacher and musician with the kindergarteners at Rooster Springs Elementary School. I sang for them, did a yoga demo and talked about why it's important to have a positive attitude and do what you love. It was so rewarding to see their expressions! It was a great day. They all were singing my song "It's gonna be a good day, a good day...."
I should have pics to post of that event soon. They were so precious! I also played them all the song Emalina recorded in the studio. They loved that!! : )
---
I'm still writing a song a week! I haven't done a video blog each week because I was figuring it all out. Now I have a great camera to record with and I'm very excited to do it! I'm putting my songs up there in VERY raw form. No perfection here.....I want it to feel like you are hanging out with me in the studio and I'm playing you my new song. I'm reading lyrics most likely and probably fumbling a bit on the guitar. (yes, I still do that after 20...eHEM...years!) I have a few songs (my favorite ones actually!) to record and put up there. I will post one of them that we put together with the band in rehearsal last week. It's called Nothing's Gonna Stop Me. I usually post them on Sundays but really whenever I can make it happen! The one I did last night is called "The Devil's Rope." That was our song prompt for last week.....I had to find a silver lining for that one for sure. Last week's is List of Reasons. I'm hoping that one will be a duet with Damon! It's about making it though the hard times of a relationship.
I hope you'll check them out and be a part of this journey with me! I am compiling these songs for my next album, so let me know what your favorites are!
Thanks so much for reading! Your support means the world to me.